3 Simple things to remember for engine upkeep
The Ultimate Buying Experience
R Marine Sydney is the Australia's longest serving premiere Riviera brokers.
View the buying process
AUSTRALIA'S MOST AWARDED DEALERSHIP
Where customer service counts and our in-house boat service team mean our customers are assured the ultimate boat ownership experience.
EXPERIENCE YOU CAN COUNT ON
Making sure the first time you get out on the water in your new Riviera all the systems are installed to your specifications, and the boat is completely sea tested.
SYDNEY'S LARGEST RANGE
Australia's premiere Riviera and luxury boat brokerage offers a wealth of experience in the sale of your boat. Our diverse networks domestically and internationally make us industry leaders in brokering the sale of your boat.
EXCLUSIVE MEMBERS ACCESS
Service, storage, parts and accessories, advice, and information, we intend to do everything we can to enhance your boat ownership experience and lifestyle.
ONSITE SERVICE
Our marine engineers are committed to supplying and creating high-quality, customised solutions for your boating lifestyle.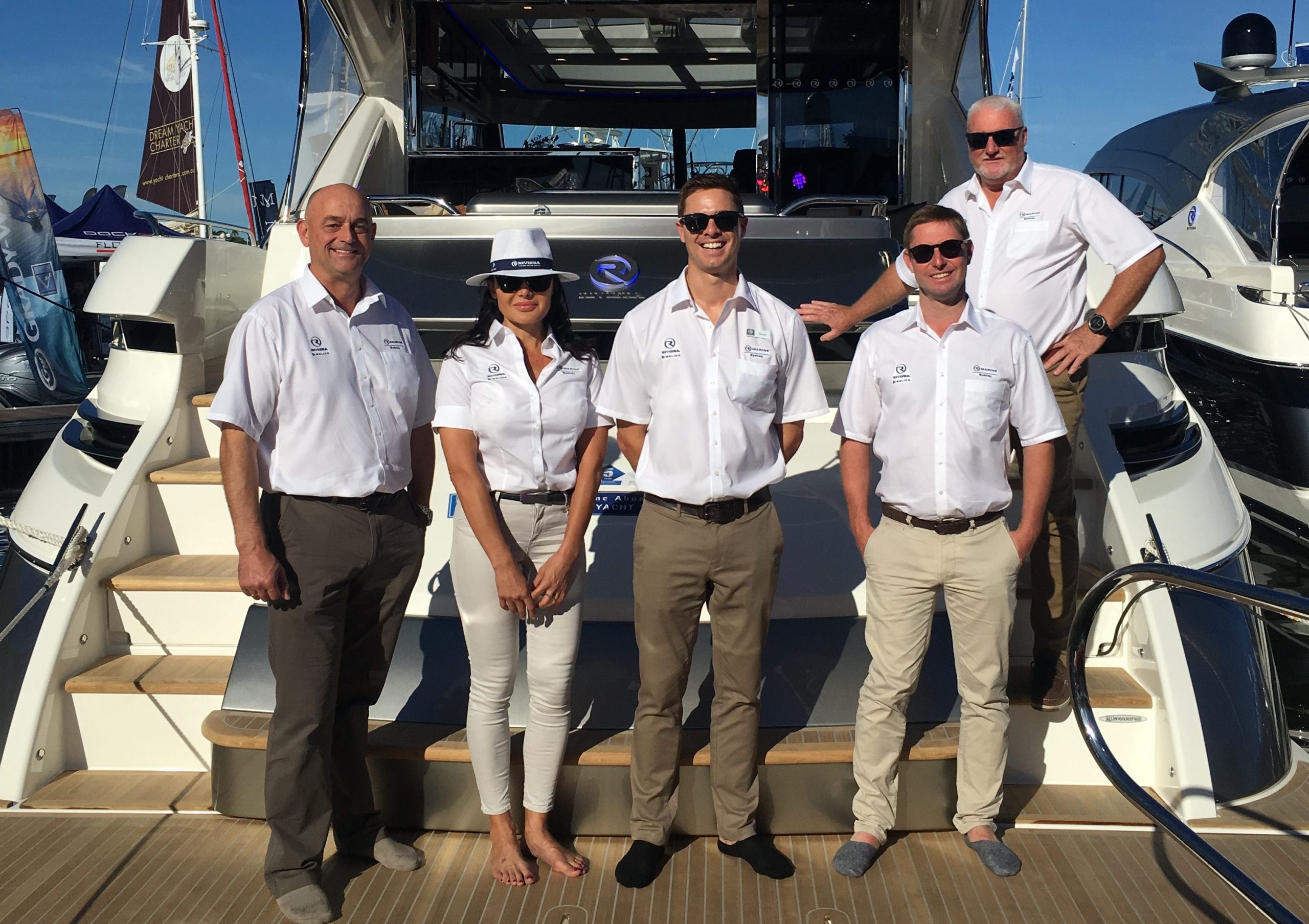 Speak to our Team of R Marine Experts
"From the point of view of your dealership I was astounded by the professionalism shown and wonder as to what level of service could be expected when purchasing a million dollar boat if the service we received when purchasing a second hand vessel was so fabulous. This is our fourth Riviera and along with three other cruisers we have dealt with a number of brokers from the good to the very stupid and I can attest that Riviera Sales, Rushcutters Bay are so far in front of the rest, it is remarkable. The attention to detail both small and large was incredible, the boat being presented clean and ready to go, the beautiful engraved plaque in our name and the 'nothing is too much trouble' attitude are attributes rarely found in today's market place."

Gregory I Freeman and Mary Freeman, Queensland
"...an amazing experience. Thanks so much for helping us make this happen - I am so proud to be finally part of the Riv community."

Scott Sach
"Eva and I would like to convey our sincere appreciation to all at Riviera Sales Rushcutters Bay, who very professionally and caringly assisted us through the total sales process with our purchase of 'Plan-B'.
As you are aware we are being assisted by Riviera Sales in rectifying a few minor problems which recently became evident and unlike some other sales companies that adopt an attitude of "we've got your money see you later" Riviera after sales service and caring attitude is very impressive to the point where we are not only encouraged to come back to Riviera Sales but also to inform our many friends of our good experience."

Phillip and Eva Southcombe, New South Wales
"Firstly, I have been so seriously impressed with all of my dealings with your organisation. All matters have been handled with the utmost professionalism and courtesy. Nothing is a problem and a client, like me, gets the very clear feeling that you can always rely on solid 'after sales service'. You have it down right and it is very refreshing."

Ken J Stevens, New South Wales
"Clare and I would also like to take this opportunity to extend our thanks for all your excellent help and service. We have had more than our fair share of dealings with boat brokers so we are more than qualified to judge you are an exception to the rule!
Everyone in your organization was helpful. It was most unfortunate that the first boat fell through but it turned out for the best and we appreciated [the salesman's] integrity and obvious concern in difficult circumstances. His attention to detail was exemplary and our boat was handed over to us in immaculate condition and he spent a very long time arranging everything and explaining it all to us personally."

Clare and Ian Fraser, Queensland
"We cannot speak highly enough of the whole Riviera experience, from the day we walked in the door to actually receiving the boat. It's rare in this day and age to go through a whole experience without finding something to fault, however our experience with you achieved this."

John and Chrisn Hickey, Victoria
"First of all I would like to thank you for the respect you showed me and your professionalism. You went out of your way arranging numerous details for me regarding the Riviera 38; picking me up from my hotel, arranging the boat lift and sea trial and even organizing a day at the Sydney Boat Show. [Thank you for] recommending Sam Wood a skipper, to bring my boat from Sydney NSW to Buddina Qld. The boat arrived in pristine condition.

I would highly recommend anyone looking to buy or sell a Riviera to contact you direct.

Once again thank you."

Adam Ashby
"I felt I was treated with the utmost courtesy and professionalism at all stages and it was and still is a pleasure to deal with you and your team."

Michael Dane, New South Wales
"We really appreciate the 'extra mile' that all at Riviera have taken to get us a replacement boat so quickly- particularly at this busy Christmas period.
As previous Riviera owners we appreciated your build quality and continuous design improvements and wish to make special mention of the team at Rushcutters Bay who are very professional sales consultants-very helpful and knowledgeable without being 'pushy'; it is a pleasure doing business with them."

Roger and Sally Pratt
WITH SERIOUS CREDENTIALS